Bacchus is a warmly accented boutique nestled among the historic neighborhood of Georgetown.  Carrying wine and spirits ranging from artisanal, unknown estates to the most coveted chateaux, the breadth of our wine collection holds something for every budget and every palate.
Our spirit collection features rare and unique bottles with ample of the 'hard to find' sort you once enjoyed but can't locate. Years of travel to wineries around the world inspired the shop´s owner, Bassam Al-Kahouaji, to create a wine experience where the nuances of friendship and wine can each compliment the other.
As such, the shop is a popular gathering spot for wine enthusiasts, from around the world and the neighborhood alike. While you never know who you might meet on a visit to Bacchus, you will always be greeted by Bassam or one of his passionate expert staff who will be as helpful and engaged as you need.
We are open and sipping Monday through Saturday from 10 a.m. – 8 p.m. and Sundays 12 p.m.-7 p.m. More sipping is done Friday – Saturday 6 p.m. – 7:30 p.m.
The Store
Trade ships and inter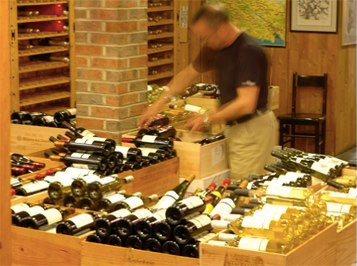 national merchants were seen zipping up and down the brick paved streets as silk, wine and caviar were traded and sent off to the rest of the US.  Bassam's family history in the trading of silver and antiquities is evident from the pieces adorning the store.  Some have been featured in the Smithsonian galleries and have been a great inspiration in the ambiance of what is now Bacchus Wine Cellar. Furthermore, with about 7,000 bottles decorating the shelves from regions across the planet, there is something for every palate.
We carry
Rare and unique spirits and wines
Very hard to find bourbon and rye
Vodkas from around the world
Over 100+ single malt Scotches
Kosher alcohol
Wine supplies and gifts
Riedel decanters and glassware
Laguiole corkscrews
Antique flasks
The Rabbit wine openers
Bar Sets
Cigars